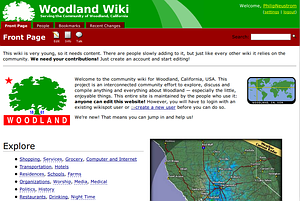 Woodland Wiki front page (2007-11).
Name
Woodland Wiki
Type
Community
Link

woodland
Creators

Brad Benedict
Contact
E-mail: <woodlandwiki AT gmail DOT com>
Creation Date
2007-04-30
The

Woodland Wiki is the community wiki for the town of Woodland, California in the United States of America. Woodland is a fairly small town, but large for an agricultural town. It is the local county seat.
To the south, you can visit the Davis Wiki, and the nearest major city is the state capitol to the east, represented by the Sacramento Wiki.