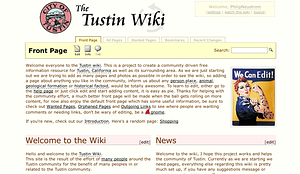 Tustin Wiki front page (2007-11).
Name
Tustin Wiki
Type
Community/Local
Link

Tustin
Not yet TLDed
Creators
MaijaUrrelo & DavidPoole
Contact
?
Creation Date
February 24, 2007
A wiki for the city of Tustin, Ca, to create a better community feel within the citizenry and show what is actually in Tustin. This project hopes to lay the groundwork for other community wiki's to form in Orange County, such as a possible Irvine or Santa Ana wikis.
Current Size: 122 pages