The word "wikiwiki" is Hawaiian for "quick." Would it be fitting, then, to make changing a wiki as quick and easy as possible? Well...you can double-click on most any text on Wiki Spot to edit it quickly!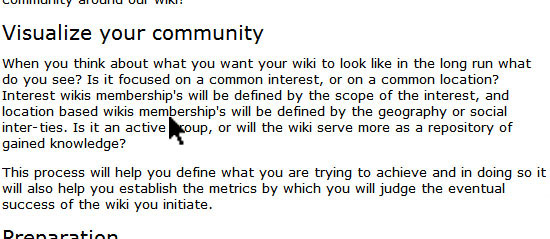 Double-click where you want to quick-edit.
Double-click most any section, and it will become highlighted. Just click Edit below the text, and a small box will appear that will let you edit that section. Click Save, and that section is changed. Voila!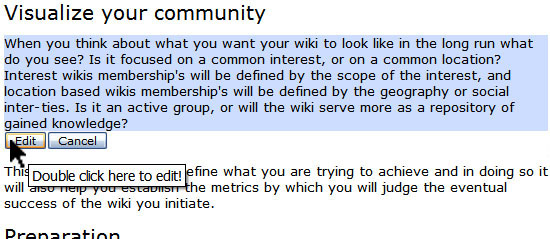 Click Edit to open an editing box.
In a quick edit, you can only edit what is contained inside the blue box. The quick edit is most useful for correcting spelling, editing single links, adding or removing a sentence or two, etc. If you want to change multiple sections or make a bunch of changes, you should probably use the normal edit button, since it will make it simpler to access the entire page at once.
Can I quick edit anywhere?
Sadly, there are some areas that you can't quick edit. These are rare, however.
Okay, then how can I tell if I can quick edit something?
Hover your mouse over something, and if "Double click here to edit!" appears then that means you can, well, double click there to edit!
See also: Help with Editing