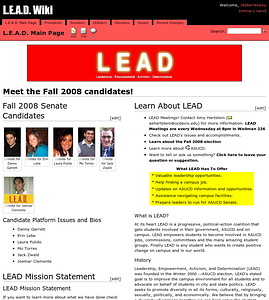 Front Page during 2008
Name
Leadership, Empowerment, Activism and Determination Wiki
Type
Project Wiki
Link

lead
Creators

Users/JamesSchwab
Contact
James Schwab <jamesmichael DOT schwab AT gmail.com>
Creation Date
2006-12-18

LEAD Wiki is a wiki for LEAD, a party (or "slate") in the undergraduate student government at the

University of California,

Davis. The LEAD Wiki provides an communication medium for information public and private regarding the student government slate.

The Wiki is festooned with campaign slogans, such at this one (to the right) from their front page during the Fall 2007 election. The wiki overall uses their slate colors as a theme: red and white.
Nearby Wikis
Davis Wiki — A city wiki covering the local town and University.


Solidarity — Another political group.
Activity
2008-12: Active


2007-10: Active
Comments:
Note: You must be logged in to add comments