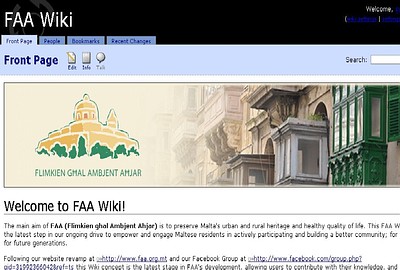 The main aim of FAA (Flimkien ghal Ambjent Ahjar) is to preserve Malta's urban and rural heritage and healthy quality of life. This FAA Wiki is the latest step in our ongoing drive to empower and engage Maltese residents in actively participating and building a better community; for us and for future generations.
Following our website revamp at

http://www.faa.org.mt and our Facebook Group at

http://www.facebook.com/group.php?gid=31992366042&ref=ts this Wiki concept is the latest stage in FAA's development, allowing users to contribute with their knowledge, and edit other users' contributions directly. Think of these pages as a mini Wikipedia. It's exactly the same concept, focusing on the Maltese environment and the overlapping cultural and heritage aspects, and ofcourse FAA's activities. Just double click anywhere on these pages for simple editing, and create further pages within minutes. All changes are logged (click the info button above to view) and rollbacks possible.