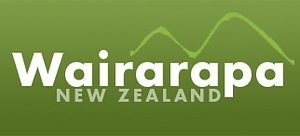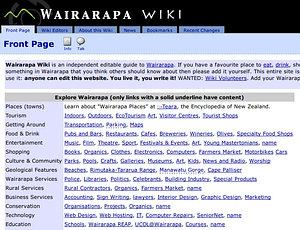 Wairarapa Wiki's front page (2007-11).
Name
Wairarapa Wiki
Type
Geographic Community
Link

wairarapa
Creators

Tomvan Bodgraven
Contact
<tom AT bindu-design DOT co DOT nz>
Creation Date
2007-04-24
The

Wairarapa Wiki is about the Wairarapa, New Zealand a lush, green and unique region located in the south east corner of the North Island. Wairarapa is just over one hour from Wellington City, which is the capital of New Zealand, making Wairarapa an extremely accessible destination for all.
Content on this page is derived from the Wairarapa Wiki
2007-10: Active
Comments:
Note: You must be logged in to add comments
---
2008-11-24 18:44:41 i <3 NZ
---
2008-12-26 20:06:48 Hi Tom, Just wondering how come Swordfish Designs still comes up on Google when I thought I had closed my spot? Its just that the details aren't correct anymore. Cheers Laura —125.239.32.244