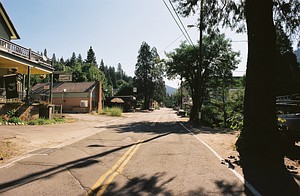 Sierra City is one of the many towns scattered along the trail. Photo from the PCT Wiki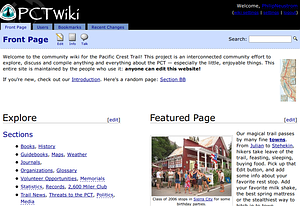 The PCT Wiki front page (2007-11).
Name
PCT Wiki
Type
Common interest wiki
Link

pct
Creators
JackHaskel
Contact
?
Creation Date
2/27/2007
The PCT Wiki focuses on the Pacific Crest Trail. It includes details of this 2,600 mile National Scenic Trail that are useful for hikers and communities that surround the trail. Every year thousands of people hike on the PCT, and a select group choose to hike the whole trail. It is for these thru-hikers that the wiki is geared for.
Comments:
Note: You must be logged in to add comments
---
2008-04-09 15:07:14 change your mileage - the pct is concerned by most as 2658 miles. just a little thing, no biggie. —216.7.122.21