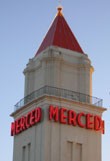 Name
Merced Wiki
Type
Wiki for the city of Merced
Link

Merced
Creators
Created by Belinda B.
Contact
ucmteacher@gmail.com
Creation Date
August 2008
You may have driven past Merced on your way to Yosemite. People who move here are surprised by how much this little town has to offer. Get away from the freeway and explore Merced's hidden treasures! Click on the link above to see some of what's here.
The city is small enough that you can drive through it in 20 minutes and it still has a small town feel. Yet with a new University of California campus located in northern Merced (est. 2005) and increasing by a thousand students a year, the town is growing to accommodate all the new folks. Who knows? Maybe we'll even get a Trader Joe's in a year or two. We've already got four Starbucks, so it can't be too far away...