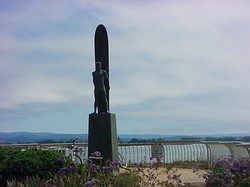 The

Santa Cruz Wiki covers a quirky coastal college community.

Santa Cruz Wiki, one of the founding sites of the Wiki Spot project, now has over 4000 pages about the city of Santa Cruz, California and its environs. Home to

UC Santa Cruz, it has pages to help students get by

on a dime. Or given the

quirky nature of the town, you may just want to know who that

guy with the pink umbrella is.

Previously Featured Wikis: